We've Done Our Doo-ty!
Grace DeMeo, Clark Conservation District Community Outreach Coordinator, 2022
We are happy to report that our door-to-door campaign has been completed! Across three months, we made a splash and visited just over 400 properties (whew) and are taking off our walking shoes. We really loved getting to meet and talk with people about an issue that affects all of us.
This door-to-door effort was part of a larger social change project to help Clark County clean up its waterways. Right now, we have high concentrations of bacteria from poop in the water that is a hazard to the environment and to our health. To help fix that poop problem, Poop Smart Clark has financial and technical assistance for people in Clark County. We used door- to- door outreach to get the word out! Our goals were:
Provide information about our financial assistance program for septic system inspection, maintenance, and repair and direct residents to resources such as WSU Extension's Inspection Training Workshops.
Support residents with livestock to manage their pastures and manure in a way that minimizes runoff into the water.
Raise awareness about the health and environmental impacts of poop in our water.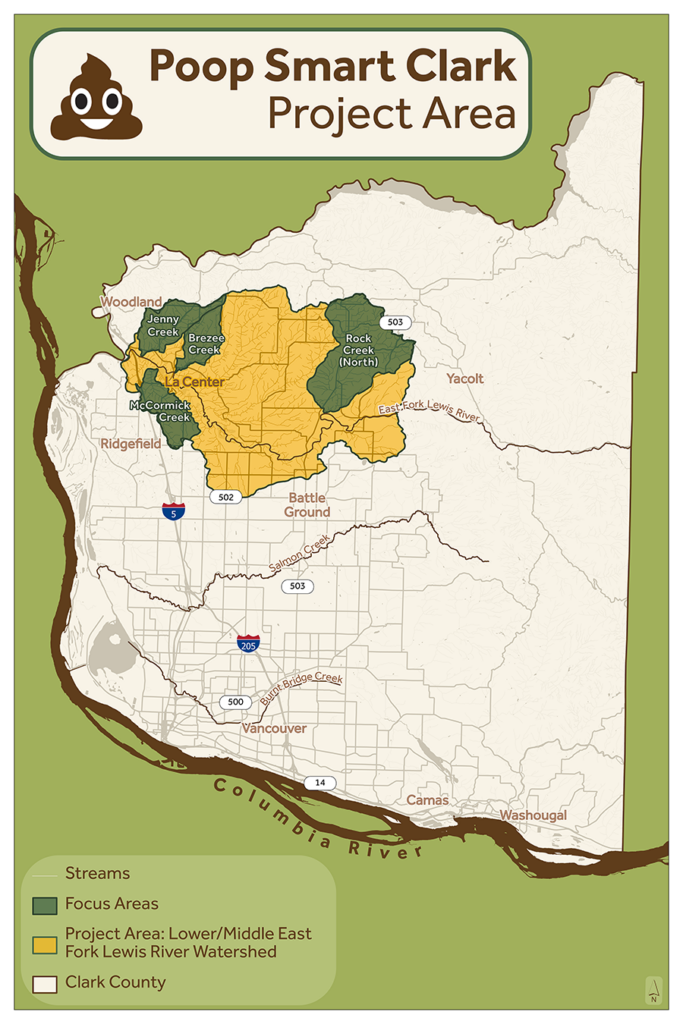 Project area for the Poop Smart Clark program. Are you in the yellow or green labeled areas? We have resources for you! If you're elsewhere in Clark County, we may still have resources for you now or in the future.
From there, the plan was simple: visit properties that could benefit the most from offered information and assistance. How were properties selected? First, we narrowed down the areas that were most deeply impacted based on how much bacteria was in the water. From there, we selected properties based on land use analysis, septic inspection data, and water quality testing results. In other words, we looked at where the poop bacteria was building up and targeted the areas that had the highest potential for change.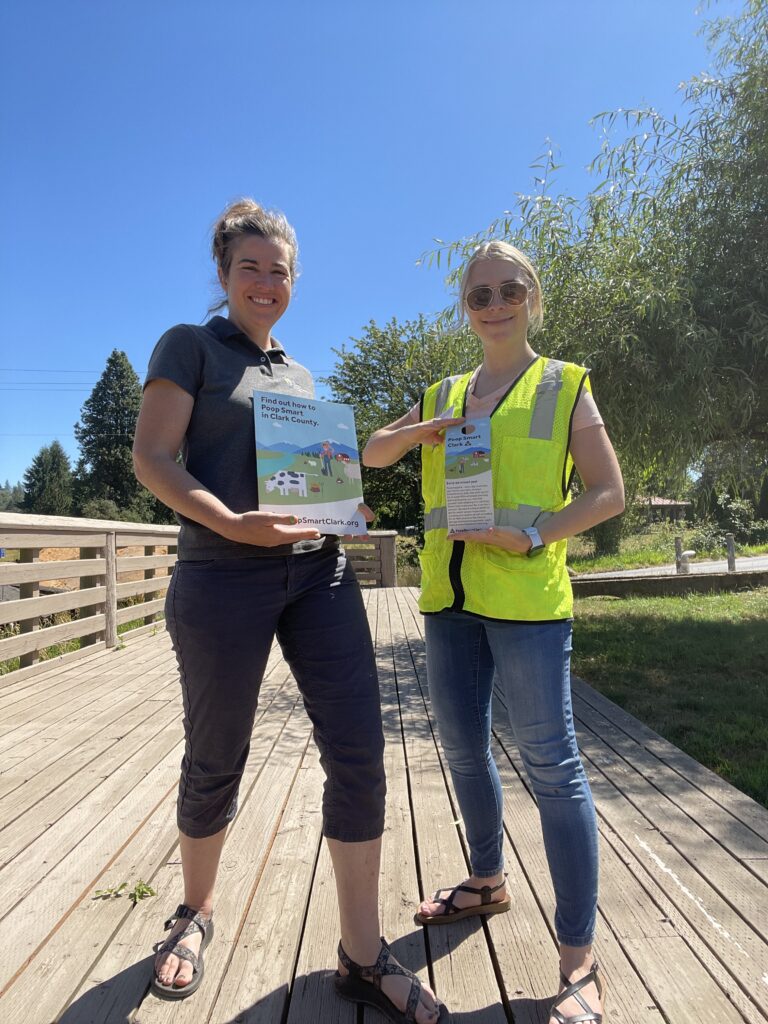 Ashley Smithers and Emily Kitali
take to the streets!
We poop alone, but watershed clean-up takes a village. Watershed Alliance of Southwest Washington and Clark Conservation District were the main two organizations leading this effort. Five staff members from both organizations hit the pavement to knock on doors, greet property owners and deliver information and assistance right to their doorstep. In total, they knocked on 422 doors and had honest, meaningful conversations with people about poop. If a resident wasn't home, they still received a door hanger with information.

In general, residents of Clark County were happy to talk with us and receive information. Several people were proud (and they should be!) that they had done a septic inspection recently, and others were surprised to learn about how the water is getting contaminated. We're already beginning to set up livestock management plans with farmers and send reimbursement checks for septic inspections and repairs.
And most importantly— kids loved to receive our stickers! Don't be surprised if you start to see poop emoji stickers around town.

If we missed you during door-to-door, we're happy to tell you that the information and programs haven't been flushed down the toilet. We will be sending out a final postcard in the mail with information in September. You can also connect with us about poop-related financial and technical assistance through PoopSmartClark.org and several more planned community events like Q&A sessions and workshops. If you have livestock and want to know where to put their manure or manage your pastures, or if you want to help as a dog owner we are here to help.

We are very proud of our accomplishment of completing this portion of our outreach program and will keep doing our doo-ty to provide Clark County with the very best poop assistance!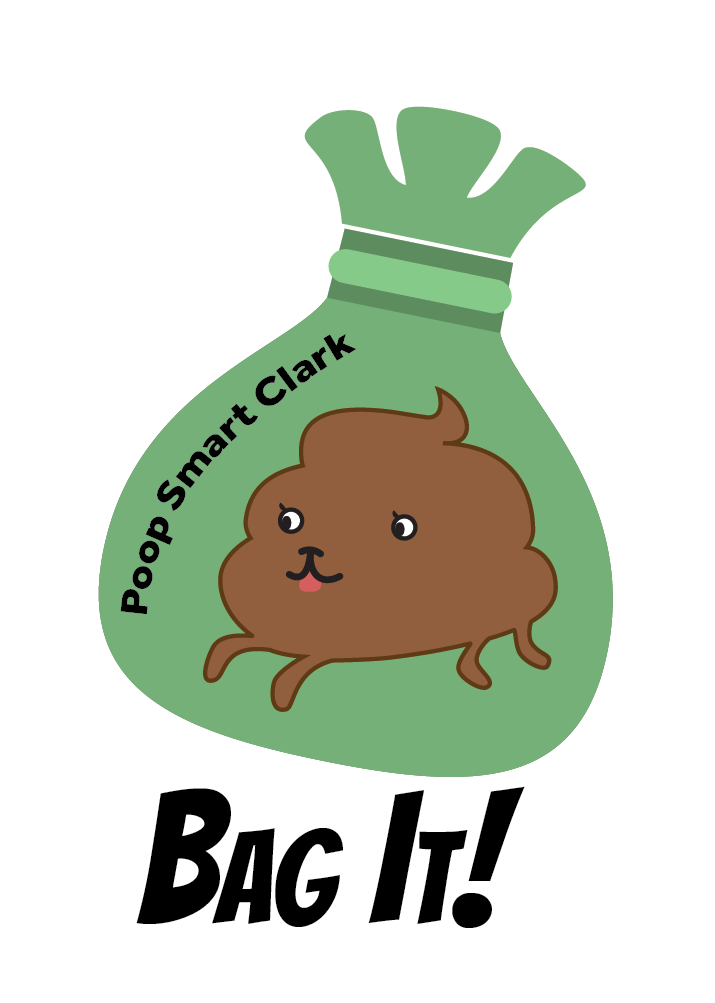 Stickers distributed during the door-to-door outreach program were a big hit!